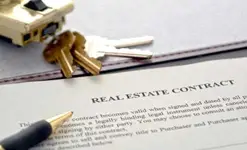 Real estate law is a complex practice area that encompasses a number of issues. Whether you are purchasing a home, selling land or dealing with real estate-related disputes, you may benefit from the counsel of a qualified real estate lawyer.

Understanding Real Estate Law
Real estate law exists to protect those who buy, sell, own or lease land and property. These laws govern transactions involving properties, the use of rental properties, real estate leases, easements and much more. In some cases, a real estate lawyer may simply act as an advocate for a client who is preparing to enter into a real estate contract. In other cases, a real estate lawyer may defend a client's interests in court when a dispute arises.
Why Hire an Attorney?
Without the help of a qualified real estate lawyer, you may find yourself entering into a transaction that is not as beneficial for you as it could have been. For example, you may find that the land or home you have purchased does not have a clean title, that the deal was structured for the benefit of the other party or that the property had defects you didn't know about prior to purchase. Once the contract has been signed, it is typically too late to change any of its terms. For this reason, it's wise to consult a real estate attorney any time you enter into a contract. Real estate attorneys can also help you deal with real estate disputes, such as problems between landlords and tenants or cases of adverse possession.
Working with Athina Balta Law Group
The experienced real estate attorneys at the Athina Balta Law Group can handle virtually any matter relating to residential or commercial real estate. We understand all of the complexities of real estate law. Our services in this practice area include but are not limited to:
Sale or purchase of commercial or residential real estate
Commercial real estate investments
Examination of real estate contracts
Real estate contract negotiation
Title examination
Water rights
Quiet-title
Prescriptive easements
Adverse possession cases
Landlord/tenant disputes
Eminent domain
Contact Us Today
Regardless of the nature of your real estate transaction or dispute, we can ensure that your interests are accurately represented. Contact our office today to schedule a consultation.