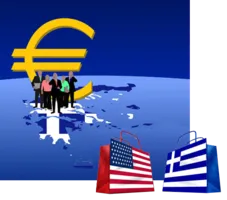 Athina Balta Law Group PLLC provides legal services to Greeks and Greek companies seeking to enter or expand their presence in the U.S. market and to American clients interested in contracting with, investing, or dealing with tax and real estate and inheritance matters in Greece.

We understand the needs of Greeks and Greek companies seeking to do business with and in the United States and the potential, legal, regulatory and policy challenges, including immigration and business laws and regulations. Our services include but are not limited to strategic planning, counsel for business operation compliance, certification, filing, and registration, drafting guidelines, policies and procedures. As an immigrant herself, attorney Balta understands issues that arise for immigrants who go into business in America, and holds the challenges of Greek Americans close to her heart.
Conversely, we work closely with Greek Law firms who advise on Greek law and a network of powerful and valuable connections in the United States and Greece covering a broad range of sectors and fields. If you are interested in delving into new business ventures, re-shaping your current professional objectives, or resolving cumbersome tax, real estate, or inheritance issues in Greece, contact us for a no obligation appointment to mutually evaluate our potential prospects.